About
Contact
To contact the conference chairs please e-mail: acadia.conf.2012@gmail.com
About ACADIA
ACADIA was formed for the purpose of facilitating communication and critical thinking regarding the use of computers in architecture, planning and building science. The organization is committed to the research and development of computational methods that enhance design creativity, rather than simply production, and that aim at contributing to the construction of humane physical environments. A particular focus is education and the software, hardware and pedagogy involved in education. Visit the main ACADIA website for more information.
Media Downloads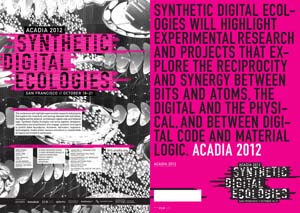 Download the ACADIA 2012 poster PDF JPG
Download the ACADIA 2012 logos Banner Badge
Download the ACADIA logos Zip (.png+.eps)

California College of the Arts
CCA San Francisco Campus (Central Nave)
1111 8th Street, San Francisco, CA. 94107
CCA San Francisco is the hub for design innovation and experimental architecture in the Bay Area. Its downtown campus is located in a 120m long former bus depot and is home to a world-class fabrication and digital design facility adjacent to its design studio spaces.
UCSF Mission Bay Campus
UCSF Fisher Banquet Hall (Ground Floor)
1675 Owens St, San Francisco, CA. 94143
The Mission Bay Conference Center is centered in UCSF's new 43-acre life sciences campus for teaching and research. Located just south of downtown San Francisco, and convenient to Oakland and Berkeley, the Center is steps away from the AT&T Ballpark, shopping, premier hotels and entertainment. This stunning new building offers a world-class setting in the heart of Mission Bay.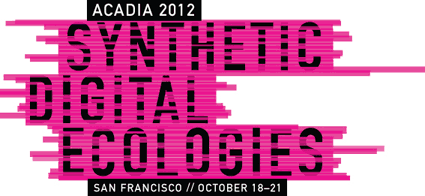 Organizers
Conference Chair
Jason Kelly Johnson, Assistant Professor
CCA & Future Cities Lab (link)
Technical Co-Chairs
Mark Cabrinha, Associate Professor
Cal Poly, San Luis Obispo (link)
Jason Kelly Johnson, Assistant Professor
CCA & Future Cities Lab (link)
Kyle Steinfeld, Assistant Professor
UC Berkeley CED (link)
Exhibition Chairs
Nataly Gattegno, Associate Professor
CCA & Future Cities Lab (link)
Brian Price, Adjunct Professor
CCA & Price Studio(link)
Graphic Design, Copy Editing, Printing
Cinthia Wen with Anita Sarret (NOON), Graphic Design
Erica Olsen, Copy Editing; Proceedings and Catalogue were printed by The Printing House in Stoughton, WI; Poster printing: Oscar Printing in SF
Assistants, CCA Support Staff and Volunteers
*** More names to be added soon *** CCA Students: Rena Montero,Tammy LePham, Emilie Alongi, Michael A. Atherton, Ling Hu, Megan Freeman, Stephanie Tabb, Sarah Estephan. CCA Wild Cards Exhibition: Shawn Komlos, Alex Woodhouse, Blake Hudelson, Minetta Rogers; CCA Tex-Fab Exhibition: Osma Dossani, Sarah Estephan, Jeff Maeshiro, Anthony Quivers. DJ: David M. Gastaneta; CCA Support Staff: Lia Wilson, Jen Sikora, Judy Krasnick, Nicholas Bruno (AV), Chris Parsell (CNC Lab).
Special Thanks
onehouse web development; ACADIA Officers and Board of Directors with an extra thanks to Michael Christenson (the ACADIA Treasurer)
Local Vendors
Bi-Rite Market Catering, La Mediterranee Catering, SF Minibus (local shuttle buses), 415 Media Group (projection systems), SF Promos (bas and lanyards), Forward Printing (T-shirts).
ACADIA 2012 Peer Reviewer List (A-Z)
Emily Abruzzo
Partner
ABRUZZO BODZIAK Architects

Sean Ahlquist
Researcher / Doctoral Candidate
University of Stuttgart / Institute for Computational Design

Chandler Ahrens
Open Source Architecture

Jason Anderson
Adjunct Professor
California College of the Arts

Phillip Anzalone
Director, Laboratory for Applied Building Science
Columbia University

German W Aparicio Jr
Adjunct Professor
California College of the Arts

Brad Bell
Assistant Professor
University of Texas Arlington

David Benjamin
Principal
The Living

Gail Peter Borden
Associate Professor, Discipline Head of Architecture, Director of Graduate Architecture
University of Southern California

Mark Cabrinha
Associate Professor
California Polytechnic State University, San Luis Obispo

Anselmo Canfora
Associate Professor
University of Virginia

David Celento
Researcher
Norwich University

Jeroen Coenders
Computation Leader, Assistant Professor and Research Lab Leader
Arup and Delft University of Technology

Demetrios Comodromos
Lecturer
Rensselaer Polytechnic University

Marcella Del Signore
Assistant Professor
Tulane School of Architecture

Rip DeLeon
Senior Project Manager
Future Cities Lab

Christian Derix
Director of Computational Design Research
Aedas|R&D

Mark L. Donohue
Associate Professor
California College of the Arts

Stylianos Dritsas
Assistant Professor
SUTD

Jefferson Ellinger
Assistant Professor
Rensselaer Polytechnic Institute

Thom Faulders
Associate Professor
California College of the Arts

Michael Fox
Associate Professor
California State Polytechnic University, Pomona

Luis Fraguada
Institute of Advanced Architecture of Catalonia

David Freeland
Design Faculty
Southern California Institute of Architecture

Pia Fricker
Director of Studies MAS LA
ETH Zurich

Nataly Gattegno
Associate Professor
California College of the Arts

David Jason Gerber
Assistant Professor
University of Southern California

David Gissen
Associate Professor
California College of the Arts

Marcelyn Gow
Design Faculty
Southern California Institute of Architecture

Kimo Griggs
Associate Professor, Associate Dean for Technology Transfer
University of Washington

Christopher Haas
Adjunct Professor California College of the Arts

Michael Hensel
Research Centre for Architecture and Tectonics - Oslo School of Architecture
OCEAN Design Research Association

Hugh Hines
Senior Adjunct Professor
California College of the Arts

Matt Hutchinson
Adjunct Professor
California College of the Arts

Jason Kelly Johnson
Assistant Professor
California College of the Arts

Jason Scott Johnson
Assistant Professor
University of Calgary

Sawako Kaijima
Assistant Professor
Singapore University of Technology and Design

Thomas Kelley
Visiting Assistant Professor
University of Illinois at Chicago

Joachim B. Kieferle
Professor
Hochschule RheinMain

Axel Kilian
Assistant Professor
Princeton University

Kevin Klinger
Associate Professor, Director Institute for Digital Fabrication
Ball State University

Joy Ko
Critic of Architecture
Rhode Island School of Design

Tuba Kocaturk
Senior Lecturer
University of Salford

Branko Kolarevic
Professor
University of Calgary

José Ripper Kós
Associate Professor
Federal University of Santa Catarina

Robert J. Krawczyk
Professor of Architecture
Illinois Institute of Technology

Andrew Kudless
Assistant Professor
California College of the Arts / Matsys

Jeannette Kuo
Visiting Professor
Ecole Polytechnique Federale de Lausanne (EPFL)

Brian Lilley
Associate Professor
Dalhousie University

Jessica Lisagor
Lecturer
California College of the Arts

Pablo Lorenzo-Eiroa
Associate Professor Adjunct
The Cooper Union

Russell Loveridge
Holcim Foundation

Gregory Luhan
Associate Dean for Research
University of Kentucky

Tyrone Marshall
Architect

Bob Martens
Associate Professor
Vienna University of Technology

Wesley Mcgee
Lecturer
University of Michigan

AnnaLisa Meyboom
Assistant Professor
University of British Columbia

Kyle Miller
Assistant Professor of Architecture
University of Kentucky College of Design

Volker Mueller
Research Director
Bentley Systems, Incorporated

Eduardo Sampaio Nardelli
Professor Adjunto
Universidade Presbiteriana Mackenzie

Oliver Neumann
Associate Professor-Architecture, Associate Chair of Wood Building Design and Construction
School of Architecture and Landscape Architecture, Department of Applied Science, University of British Columbia

Ted Ngai
Lecturer
Rensselaer Polytechnic Institute

Paul Nicholas
Centre for IT and Architecture, Royal Academy of Fine Arts, School of Architecture, Design and Conservation

Clare Olsen
Assistant Professor
California Polytechnic State University, San Luis Obispo

Murali Paranandi
Associate Professor
Miami University, Oxford, Ohio

Kat Park
Digital Design Manager
SOM

Vera Parlac
Assistant Professor
University of Calgary

Santiago R. Perez
Assistant Professor , 21st Century Endowed Chair in Integrated Practice
University of Arkansas

Brady Peters
Centre for IT and Architecture, Royal Academy of Fine Arts, School of Architecture, Design and Conservation

Jeff Ponitz
Assistant Professor
California Polytechnic State University, San Luis Obispov
Brian Price
Adjunct Professor
California College of the Arts

George Proctor
Professor
California State Polytechnic University, Pomona

Nicholas Puckett
Assistant Professor, Digital Futures Initiative
Ontario College of Art & Design

Seung Ra
Assistant Professor
Oklahoma State University

Ronald Rael
Assistant Professor
University of California, Berkeley

Mette Ramsgard Thomsen
Professor
Centre for IT and Architecture, Royal Academy of Fine Arts, School of Architecture, Design and Conservation

David Ruy
Associate Professor
Pratt Institute

Jenny E. Sabin
Assistant Professor
Cornell University

Andrew Saunders
Assistant Professor
Rensselaer Polytechnic Institute

Axel Schmitzberger
Assistant Professor
California State Polytechnic University, Pomona

Marc Aurel Schnabel
Professor
The Chinese University of Hong Kong

Tobias Schwinn
Research Associate
ICD, University of Stuttgart

José Pedro Sousa
Auxiliar Professor
University of Porto, Faculty of Architecture

Aaron Sprecher
Assistant Professor
McGill University

Kyle Steinfeld
Assistant Professor
University of California, Berkeley

Rudi Stouffs
Associate Professor
Delft University of Technology

Marc Swackhamer
Associate Professor
University of Minnesota

Kyle Talbott
Associate Professor
University of Wisconsin

Martin Tamke
Associate Professor
CITA | Centre for Information Technology and Architecture, The Royal Danish Academy of Fine Arts, Schools of Architecture, Design and Conservation | KADK

Joshua Taron
Assistant Professor
University of Calgary

Aron Temkin
Professor
Norwich University

Peter Testa
Senior Design Faculty
SCI-Arc

Robert B Trempe Jr
Assistant Professor
Tyler School of Art, Temple University

Carmen Trudell
Assistant Professor
California Polytechnic State University, San Luis Obispo

Bige Tuncer
Associate Professor
Singapore University of Technology and Design

Tom Verebes
Associate Dean
The University of Hong Kong

Joshua Vermillion
Assistant Professor
Ball State University

Emily White
Full time faculty
SCI-Arc

R. Shane Williamson
Associate Professor
University of Toronto

Wei Yan
Associate Professor
Texas A&M University

Shai Yeshayahu
Associate Professor
Southern Illinois University